Our Charity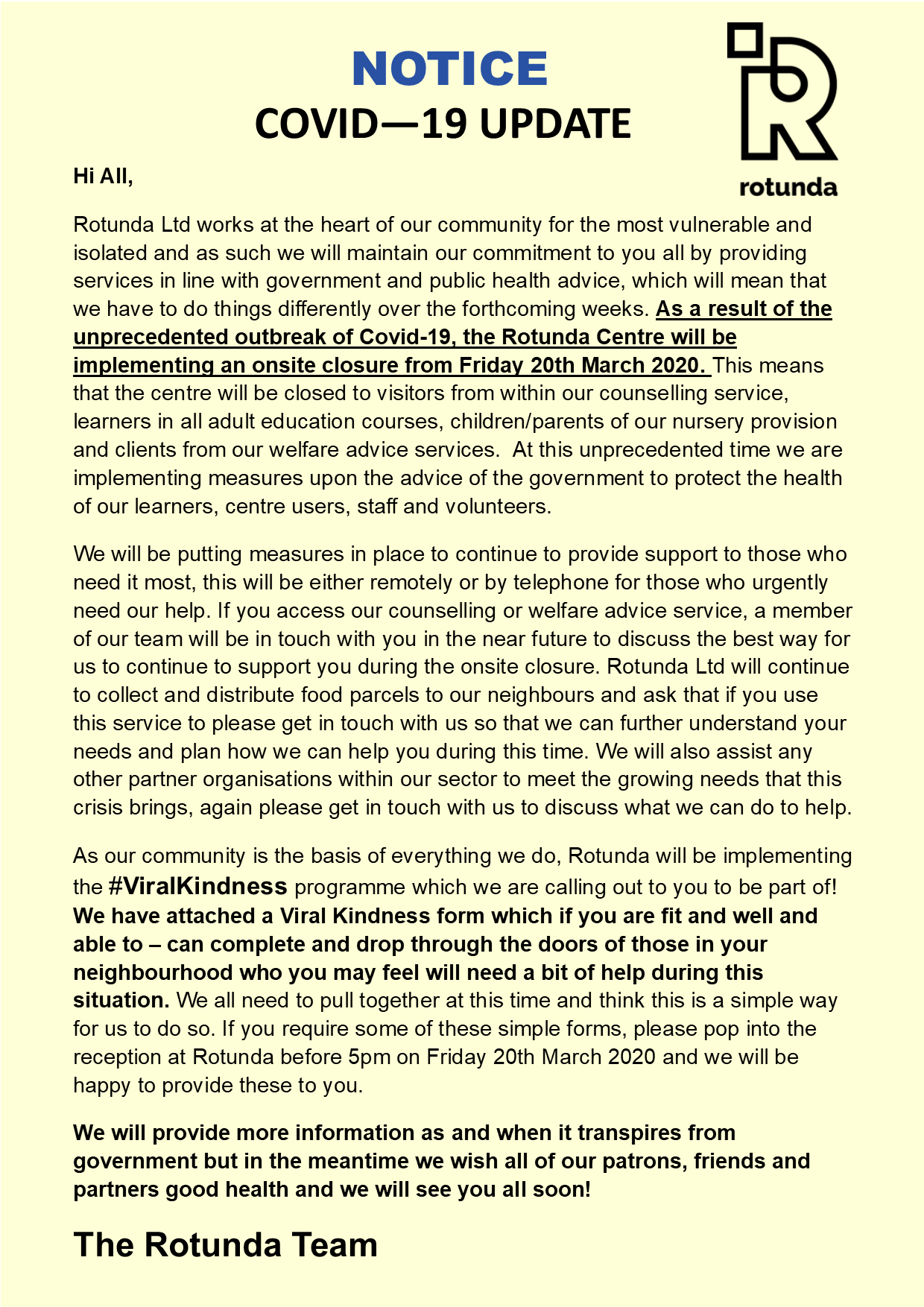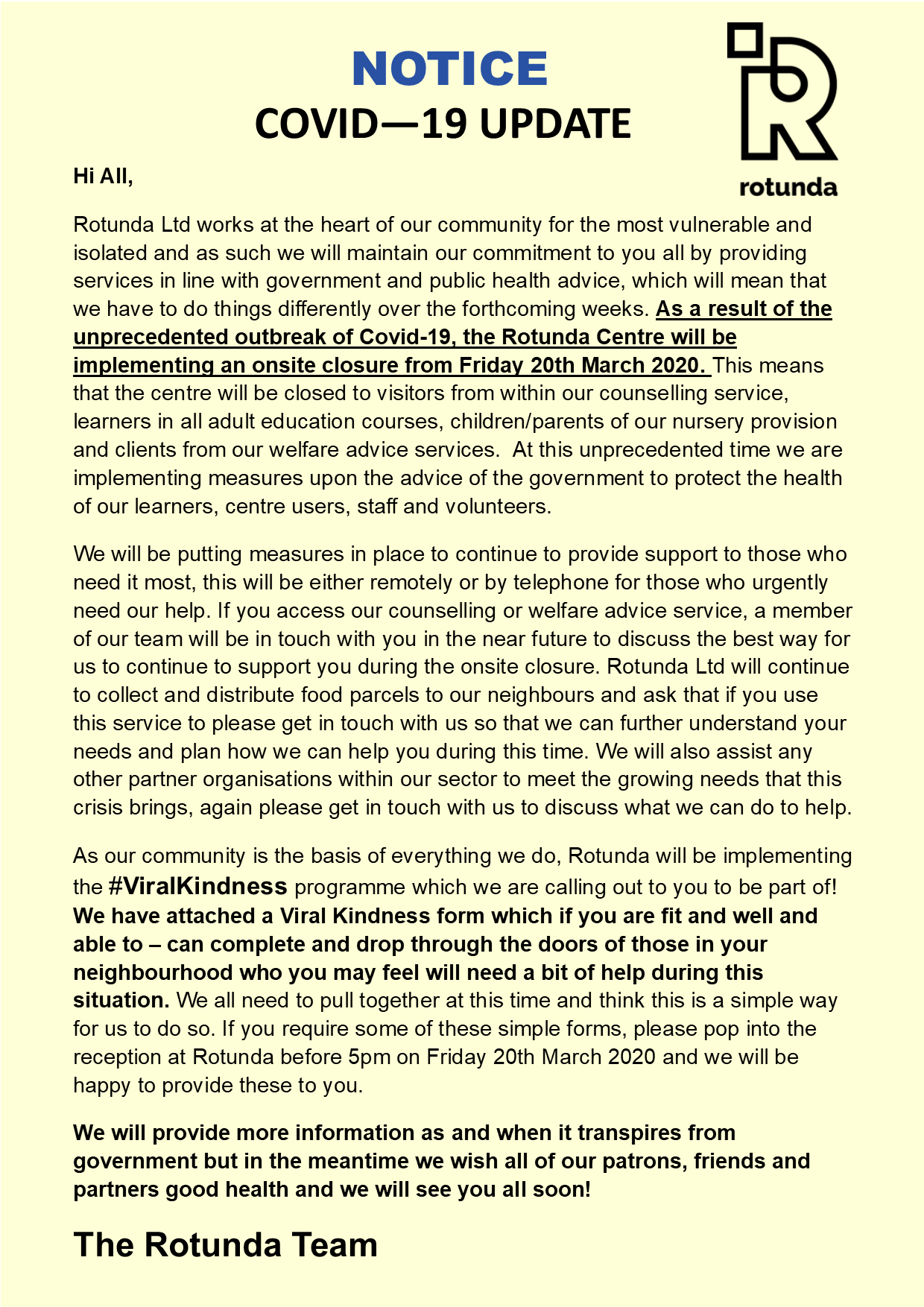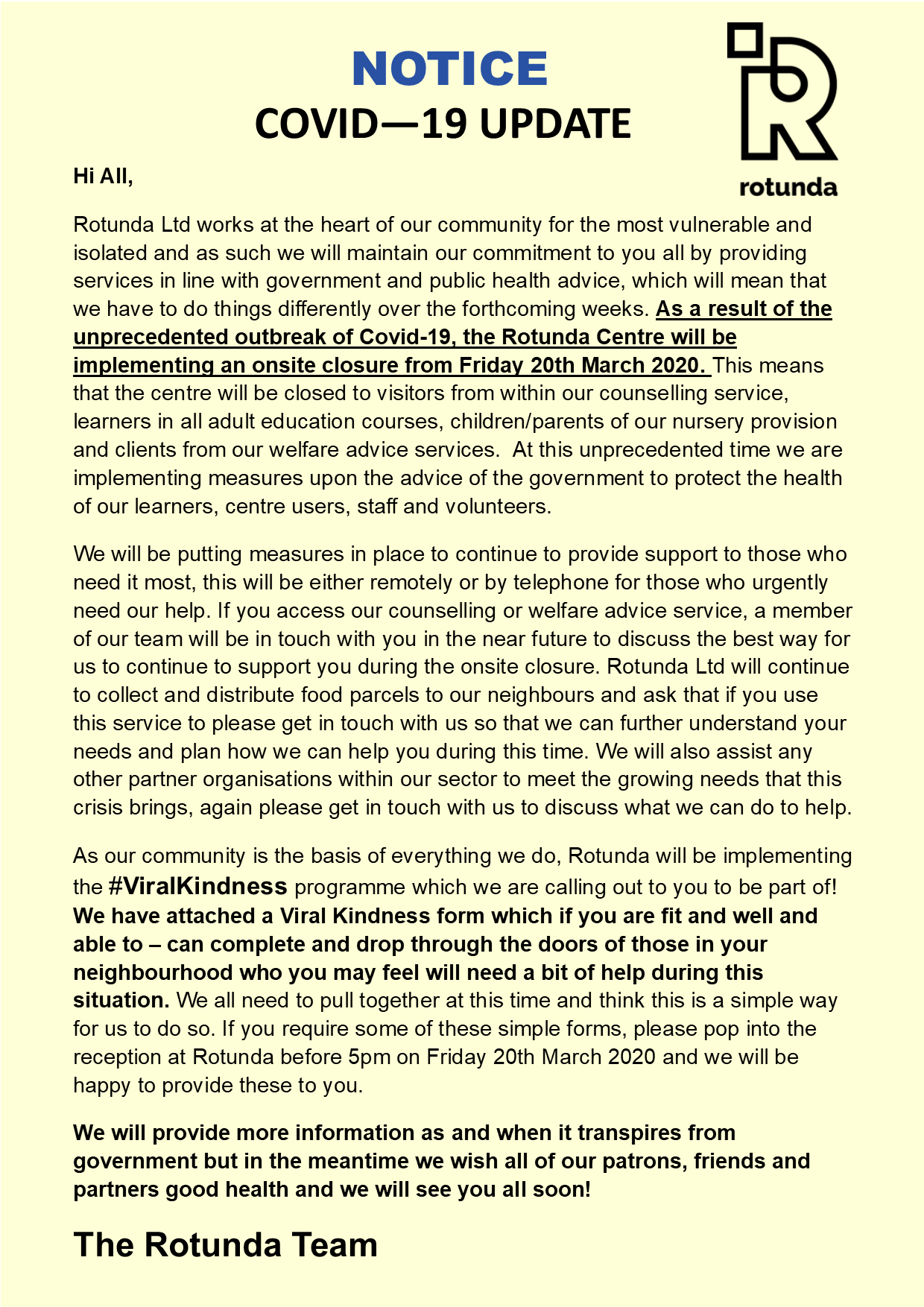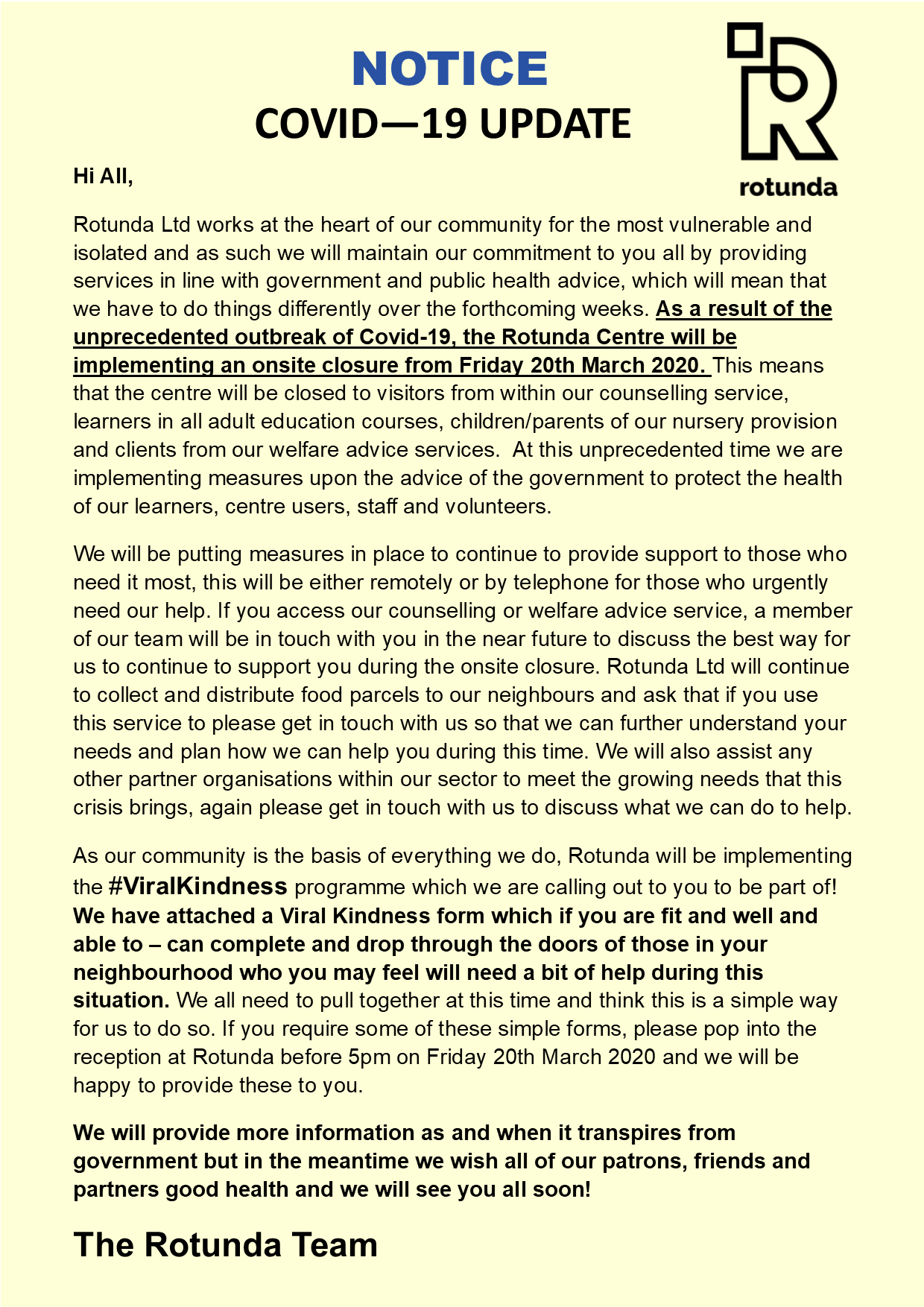 The Rotunda Team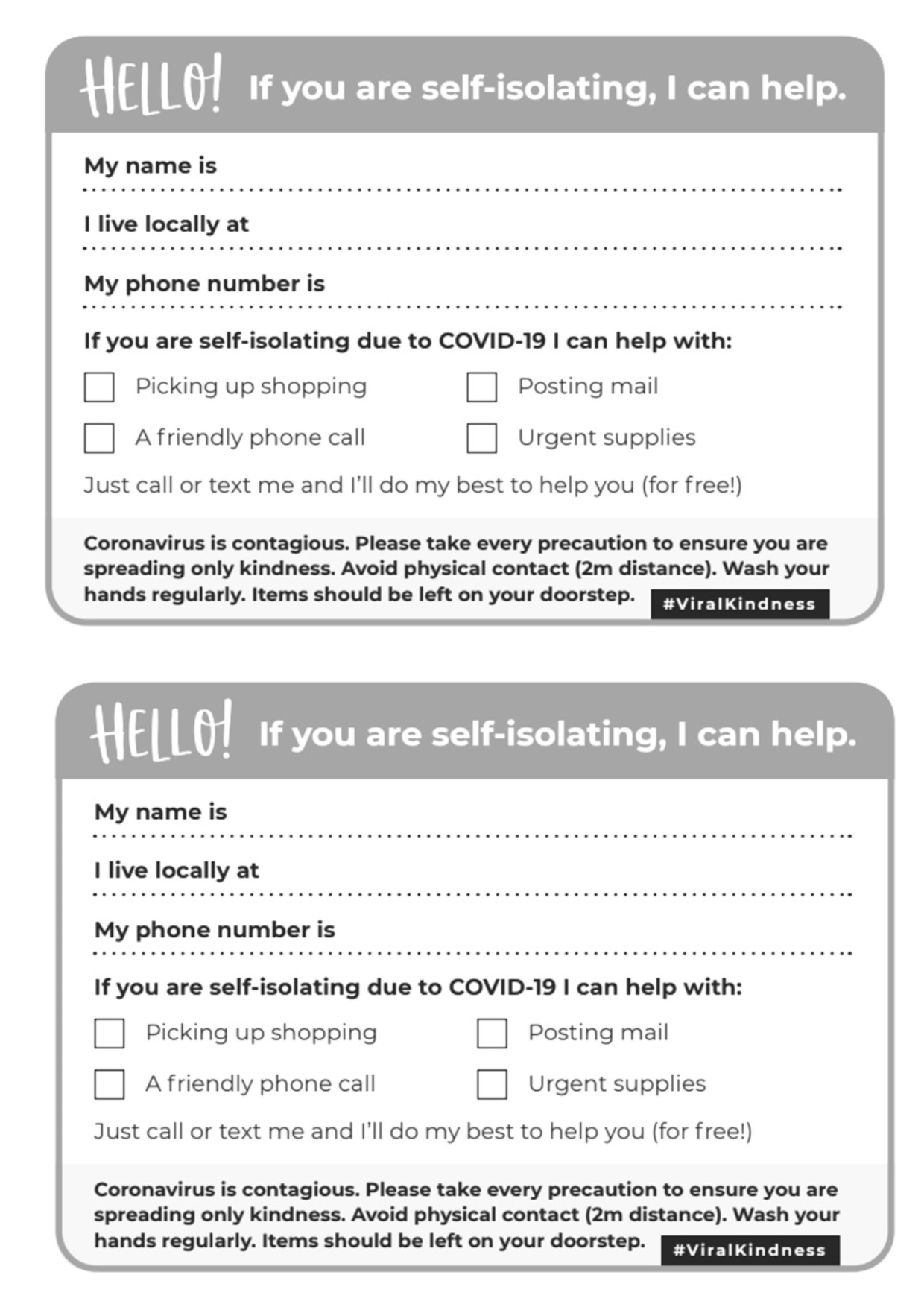 Rotunda is a Community College specialising in adult education, based within five Grade II listed Georgian terrace houses in Kirkdale, North Liverpool. We have been serving our community for 33 years and lead on social regeneration for north Liverpool.
Rotunda is a warm and welcoming place to learn, recharge and find help within our own H.E.L.P HUB
HELP to
Enable
Learn &
Progress
Rotunda specialises in Career Foundation Courses; our own courses and vocational academies for all aged 19+.
As an Anchor Charity, we support our local community of north Liverppool, and beyond, with free counselling, legal advice, loads of community events, activities and workshops, a Garden Bistro that's also a history resource, an Ofted 'GOOD' Nursery, beautiful Community Wellbeing Gardens, sponsored by Jo Malone London, and a big space out the front with our own Folly sculpture for events.
Our Enterprise and Heritage Centre house a grand Conference room with original Georgian detail, bright and spacious office and desk hire and we have a large IT Suite and events room for evenst, filming and meeting hire.
OUR VALUES
PLEASE NOTE:
COVID-19 UPDATE
Hi All,
Rotunda Ltd works at the heart of our community for the most vulnerable and isolated and as such we will maintain our commitment to you all by providing services in line with government and public health advice, which will mean that we have to do things differently over the forthcoming weeks.
As a result of the unprecedented outbreak of Covid-19, the Rotunda Centre will be implementing an onsite closure from Friday 20th March 2020. This means that the centre will be closed to visitors from within our counselling service, learners in all adult education courses, children/parents of our nursery provision and clients from our welfare advice services. At this unprecedented time we are implementing measures upon the advice of the government to protect the health of our learners, centre users, staff and volunteers.
We will be putting measures in place to continue to provide support to those who need it most, this will be either remotely or by telephone for those who urgently need our help. If you access our counselling or welfare advice service, a member of our team will be in touch with you in the near future to discuss the best way for us to continue to support you during the onsite closure. Rotunda Ltd will continue to collect and distribute food parcels to our neighbours and ask that if you use this service to please get in touch with us so that we can further understand your needs and plan how we can help you during this time. We will also assist any other partner organisations within our sector to meet the growing needs that this crisis brings, again please get in touch with us to discuss what we can do to help.
As our community is the basis of everything we do, Rotunda will be implementing the #ViralKindness programme which we are calling out to you to be part of!
We have attached a Viral Kindness form which if you are fit and well and able to – can complete and drop through the doors of those in your neighbourhood who you may feel will need a bit of help during this situation.
We all need to pull together at this time and think this is a simple way for us to do so. If you require some of these simple forms, please pop into the reception at Rotunda before 5pm on Friday 20th March 2020 and we will be happy to provide these to you.
We will provide more information as and when it transpires from government but in the meantime we wish all of our patrons, friends and partners good health and we will see you all soon!