Blogs with Katie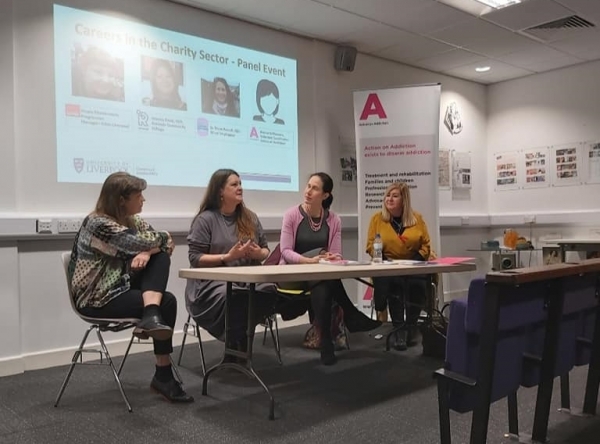 Blogs with Katie and Maxine.
My name is Katie King and I have been working as a social media apprentice for Rotunda for over a month now! It has always been a passion of mine to work in media and marketing so once the company offered me the chance I took it! Being able to work in the third sector has now become an ambition of mine as I continue to love the work I do here at Rotunda. The following blog is a day in the life of Katie and Maxine…
On 13th February, I had the pleasure of assisting my boss/CEO of Rotunda Maxine to a business meeting at Liverpool Guild of Students. The venue itself is modern and welcoming – bursting with enthusiastic university students willing to learn all sorts of subjects. The meeting entailed a discussion about what is involved in working in the third sector such as: volunteering. A small group of students expressed their keen interest in volunteering as they struggle to decide what career is best suited to them. Here at Rotunda, we can 100% say volunteering is the best way to start. Discovering what skills and talents are best to use in what way is one of many exciting outcomes you can expect to gain with spending time working in the third sector. Alongside Maxine were a panel of third sector experts from companies all across Liverpool and the Wirral such as: ActionAdditiction, CrisisMside and WirralUnplugged. The panel were sharing their knowledge of just how important volunteers are working in our communities, helping them to thrive. There are plenty of opportunities available for students looking for a career in the third sector – they just simply need discovering by the right sort of people who are willing to help others out. The year 2020 has never craved more volunteers as we live in hard times filled with austerity and all sorts of injustices. Every charity seems to be calling out for more volunteers simply because there are currently not enough. Yet, the experiences and memories that can be gained from being a volunteer are unbelievable and noteworthy. So who wouldn't want to spend some of their time volunteering in the third sector? Numbers can certainly increase in the future if more people gained an insight into the third sector world. Rotunda cannot express how important volunteers are to every business, charity or community. They really are at the heart of everything a third sector stands for which is why volunteers have never been needed as much as they are in society today.
19 February 2020