Notes from Rotunda Community Wellbeing Garden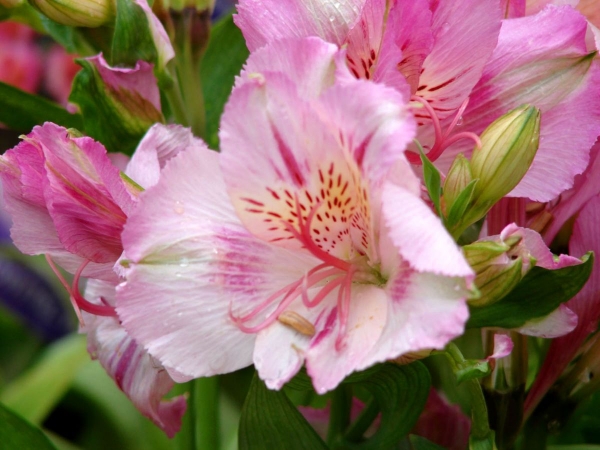 The more perceptive reader will have noticed that the above photo is an internal shot; it is, in fact, from my lounge at home. The reason that I've brought it up is that I was in our lovely Bistro yesterday, having a hearty and quite delicious winter vegetable soup when I noticed that there were alstroemerias on every table. I was particularly impressed as they are one of my favourite flowers; hence the snapshot taken last night.
Once the clocks go back, gardening can seem an arduous and thankless task, but we can all cheer ourselves up by bringing colourful flowers into our houses. Alstroemerias, or "Peruvian Lilies" are quite a good choice as they are relatively long-lasting and spirit-liftingly pretty. Just strip all the lower leaves off and change the water every few days to keep them fresh.
Many years ago I had a small garden centre and a lady came in once a week to fettle the houseplants and cut flowers. And she gave me some good tips to keep them going. If you go to a traditional florist you will find them rather cold places. This is because low temperatures extend the life of cut flowers massively. So when you buy some, cut the stems to improve the capillary action; and if you think on, put an ice cube in the vase every day. And one tip she gave me I had trouble getting my head around as it seemed so counter-intuitive: add a couple of drops of bleach when you change the water! This extends the life of the flowers, stops the water from going cloudy and also inhibits the growth of bacteria which also helps. Had I mentioned this on April Fools' Day you might have smelt a rat, but it really works.
I am rather pleased with myself.  Every year I sow some Flanders Poppy seeds in August. These are the ones that, owing to the shells churning up the western front in the first world war, covered parts of the battlefields with their blood-red blooms. It's a bit of a gamble with such a late sowing (just scattered onto the borders and trodden in), but with a helping hand from the weather they will be in flower for Remembrance Day; and I'm chuffed to say that I've got a really good show this year.
Terry Reilly
18 November 2019