Meet The Team Series: Ashlyn Gallagher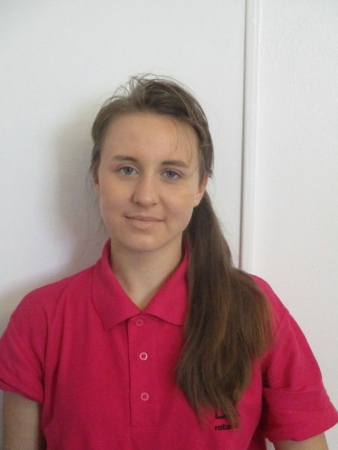 Welcome to another instalment of our 'Meet The Team' Blog Series. Today, we introduce you to one of our Nursery Practitioners- Ashlyn Gallagher. We hope you enjoy getting to know Ashlyn and discovering what she gets up to behind the scenes through our nursery doors!
Hi everyone, my name is Ashlyn, I am 22 years old and I have worked at Rotunda Nursery for 2 years.  Rotunda staff and parents might think I am very quiet; because I don't talk particularly loudly and I'm not the chattiest person. However, I always enjoy opening the door and interacting with parents and their children: saying good morning/good afternoon, how are you? - while smiling and waving. I love to give our children and parents a warm welcome every day.  
The truth is that I am very busy in the nursery and use most of my energy being very loud and outgoing with the little ones. I enjoy planning and setting out my activities and seeing what new ideas I can come up with to keep the children engaged and curious! (Most of the time I am trying to do more than one thing at a time). In the nursery I speak all day long, engaging with the little ones and answering all their questions. Children have very curious minds and are always asking the question 'why?'. I also get asked, "what are you doing?" "what are we doing?" "why are you getting that out?" "can I help?" "Can I have a turn?" I have lots of fun with the children and create lots of mess. I love messy play even when it gets too messy! I am always trying out new messy ideas and seeing what I can create with the children. Even if it doesn't always go to plan, the children love getting involved and seeing what they can make. 
Apart from making a mess, I multi-task all day long; engaging with one child to the next and getting involved with their play and ideas. Whether I am busy changing nappies, helping with toileting, or tidying and setting up activities, the children always want my attention. I tell them 'one minute', but one minute isn't actually a minute and they always say 'Ashlyn it's been a minute now' or 'Ashlyn has it been a minute yet?'. I quickly finish up what I am doing and attend to what they want me to do, whether it's going to look at what they have built, have a cuddle and a story, draw a picture, do a puzzle or join in with their imaginative play. Sometimes I have to be a dinosaur, a superhero, a lion or whatever they turn me into with their magic wand. From 8 am to 6 pm, it's a very busy day and even when it turns 6 o'clock the children still have lots of energy. You have to remind them that it is time to go home; as they ask you, what are we doing next? Can I get this out? Can you do this with me? Will you play with me?  I have to say "it's time to go home now; we will do it tomorrow." They then ask "why is it home time?"
After every busy day, I am always reminded why I love this job. I enjoy being a nursery practitioner and joining in with children's play and helping them explore, learn and be curious every day. Every day is different and no day is ever the same! 

9 February 2021