Multi Dimensional Learning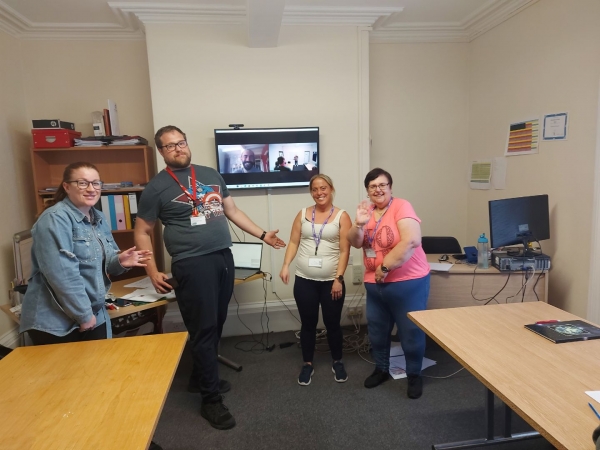 Its fair to say that my own first experiences of education were not universally positive. Rows of desks lined up, the teacher standing rigidly to attention at the front daring you to break eye contact so he could launch a piece of chalk (or even, believe it or not, occasionally a board rubber) at your head. Learning 'stuff' was an attritional experience and not for the faint hearted. 
Over the years there were some enormous changes in how education was delivered but essentially, when you boil it down it was still a group of people, sitting in a classroom being directed by a teacher in a way and at a time of his or her choosing. 
I've worked within the Education Team at Rotunda for seven years and although we are firmly a 'people first' provider of learning this was also the case for us. Lockdown and the imposed restrictions landed on us like a tonne of bricks and we couldn't do the thing we were best at which is help people learn, gain qualifications and progress. 
However, one of the most important things I have learnt over the last 18 months is how adaptable we are at Rotunda. We looked at how we could deliver education in a different way. We explored the technologies available to us to see if we could still reach people meaningfully. Within three months we were back up and running, fully operational and delivering all of our programmes remotely. We have a fantastic young team who embraced the new model and made it work. 
All the resources are online and our learners can access them on our remote platform at a time that is convenient to them. The lessons are online but if you can't attend it is fine because they are all recorded and shared with the group. There are discussion platforms recapping the day's lesson and this is a fantastic way for our students to meet new people and support each other.  All of a sudden education is more accessible. If you are a single mum, with three kids, and don't have the time to sit in a classroom all day (but sometimes your mum comes down to mind the kids for a couple of hours of an evening) you can take part. Even if you don't have access to IT equipment we can deliver the resources to you so no one is left behind.
We have long talked about the next logical step from this which is to do both. That is to create a multi- dimensional learning environment where we have face to face learning and learners accessing remotely. Today, for the first time this became a reality. Our maths teacher Alex Parkes Reed delivered to a group of remote and face to face learners. I was an observer in the session and was struck by how engaged the group were.
I spoke to them after the session to see how it went and got some great feedback. Georgia said, 'My kids are all in school now, it's time for me. I really like the fact that I can attend the lessons in person and also just do them from home.' Angie said ' I'm really glad that I can actually be in the classroom because I struggle with computers.'
Events over the last 18 months have made us re- evaluate education and how it is delivered. One thing we can be absolutely certain is that it will never be the same. The genie is out of the bottle and now for the first time we can say with some confidence that education is totally inclusive.
22 September 2021