Vacancies
Please scroll down to view all current vacancies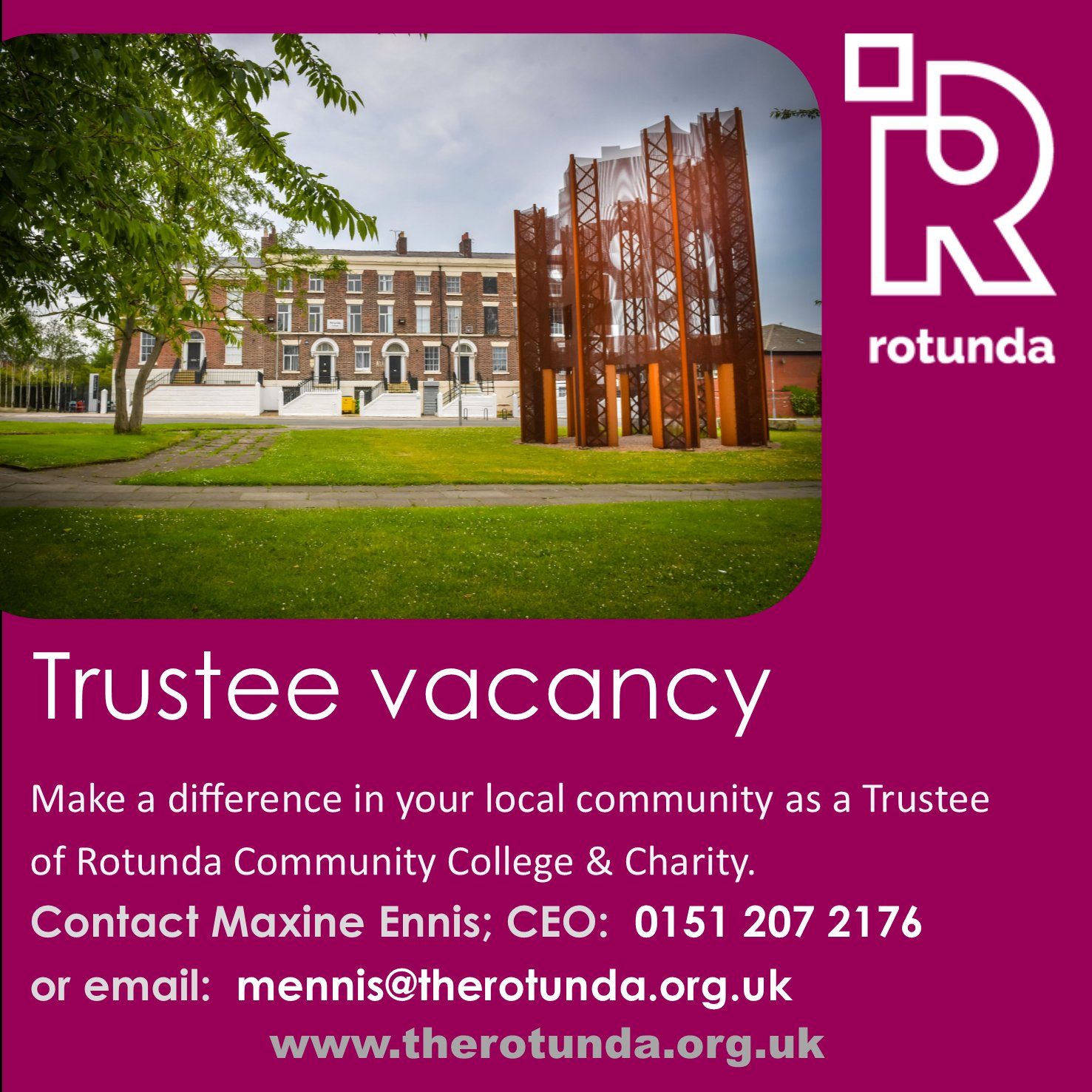 TRUSTEE OPPORTUNITY
Rotunda is a long established Community College and hub in North Liverpool our Vision reads: -
"We are passionate and steadfast in serving our area by providing education and extending
opportunities to all people, regardless of their circumstances so as to enable them to exceed
their expectations, be creative, enterprising and achieve their fullest potential."
We have a proven track record of education achievement and transforming lives. In addition to basic skills there is emphasis on providing uniqueness, creativity, good health and enterprise
It's an exciting time as we embark on a big capital development, as well as service review of our Adult Education, Welfare, Counselling and Nursery provision.  As a result we are looking for people with a range of experience to join our Board.   If you are passionate about using education, training and skills to empower and elevate communities across the LCR and have a working knowledge of one of the following areas, we would like to hear from you. 
Adult and Further Education

Community Owned Place Making, Culture & Heritage

Architecture, Planning and Design

Children and Young Peoples Mental Wellbeing

Legal Services
Trustee's responsibilities include:
Legal and financial oversight of Rotunda
The development of Rotunda within its agreed organisational aims and strategic plan
Efficient running of the organisation with full accountability to its funding bodies and Charity Commission.
Appointed trustees must have or agreed to undergo a DBS check
How to Apply:  For more information about Rotundas ambitious 5 year plan and your role within it please contact Maxine Ennis Chief Executive Officer 07799062155  or Email mennis@therotunda.org.uk or write to Maxine Ennis (CEO), Rotunda, 109 – 115 Great Mersey Street, Liverpool 5 L5 2PL
ASSOCIATE TUTOR VACANCY
IMMEDIATE START
***Two positions available***
Fantastic opportunity for two Associate Tutors to join the Rotunda Community College Team to teach employability and customer service to adults aged 19+
Please call Maxine Ennis; CEO for an informal chat: 0151 207 2176
9am - 5pm; Mon - Fri
Or email/post your CV with cover letter to Maxine by 5pm Friday 20th March:
mennis@therotunda.org.uk
Rotunda Ltd, Great Mersey Street, Liverpool, L23 5RD
As part of the Rotunda Team you will enjoy:
> Warm, welcoming, supportive team
> Free car parking
> Free WIFI
> Fantastic Rotunda Garden Bistro on site
> Wellbeing Community Garden
> IT suite
CARETAKER VACANCY
Job title: Caretaker
Salary: £8.21 per hr 
Hours: 20 Hours 
Location: Rotunda Ltd, Great Mersey Street, Liverpool 
Reporting To: Business Development Manager
Overall purpose of the post:
 To be responsible for the day to day planned and reactive maintenance of the grounds, premises and facilities.
 To prioritise and arrange repairs and maintenance that is the responsibilty of Rotunda Limited.
 To develop, implement and record a rolling maintenance plan for the grounds and premises.
 To lead on and communicate health, safety and security requirements, ensuring legal compliance.
 To be responsible for liasing with stakeholders and contractors. 
Main duties and responsiblities:
To ensure that the grounds, premises and facilities are kept in good order are fit for purpose of all stakeholders.
 To contribute to the mainteance and delivery of service level agreements with tenants.
 To plan, undertake and record health, safety, appliance and fire risk assessments, tests and evacuation drills.
 To commuicate health and safety resonsibilities to staff, tenants and visitors.
 To liaise with eternal agencies such as the Fire Service and Health and Safety Executive on checks and inspections, and manage and assist contracters on site.
 To work with the Business Development Manager and Education Contract Manager to develop a rolling maintenance plan, implement procedures and keep up to date mainteance records.
 To develop and build positive relationships with tenants, contractors and staff.
 To take responsibility for supervision of Rotunda volunteers on site.
 Mentoring and supporting volunteer in job search and employability.
 To carry out all of these duties in accordance with the aims, values and policies of Rotunda Ltd as laid out in its Equal Opportunities Policy, paying particular attention to confidentiality and impartiality.
For an application form/informal discussion ring Norma on: 0151 207 2176